New research, detailed in our 2023 Brand Lift Report: Building Brands with Emerging Media, confirms that brand recall—what audiences remember about a brand—is just as critical to driving brand lift in emerging channels like podcasts, influencer marketing and branded content as it is in more traditional ones. In fact, when we look at the top five drivers of brand lift across these channels, nothing is more important than brand recall. While somewhat intuitive, this finding highlights that brands need more than just creativity in their advertising.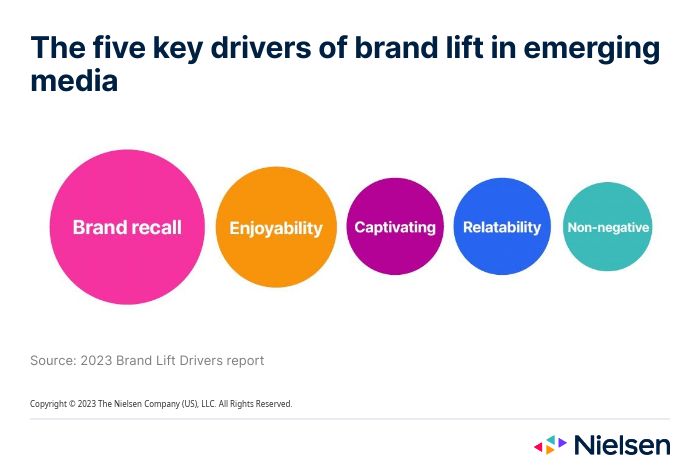 When it comes to brand lift benchmarks like awareness and purchase intent, recall is even slightly more important than a person's baseline awareness for a brand. In looking at the five key drivers and baseline awareness, brand recall influences 38.7% of brand lift in emerging media; baseline awareness comes in second at 37.5%.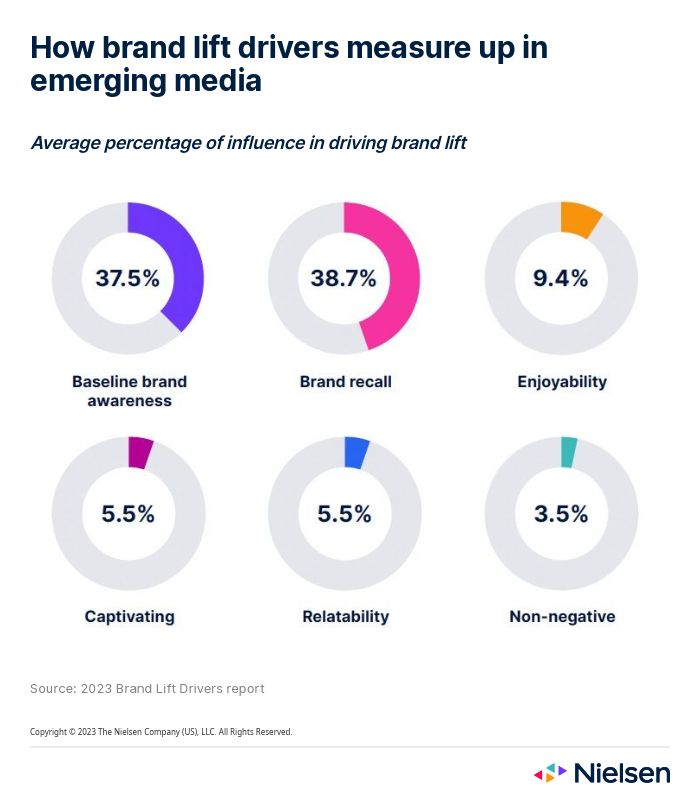 The value of tracking brand recall in emerging channels
Understanding the importance of brand recall in emerging media channels comes at an important time, as global marketers continue to increase their ad spending across digital channels, with social media, native advertising and podcasts leading the way. According to the global survey Nielsen fielded to support our 2023 Annual Marketing Report, global marketers plan to increase their spending across these three media types as follows:
Social media: 59% planned increase
Native advertising: 48% planned increase
Podcasts: 38% planned increase
These planned increases reflect growing audience engagement with digital channels and the fact that global marketers continue to focus on brand awareness and new customer acquisition—a trend that we've seen hold steady in each of the annual marketing reports that Nielsen has produced since 2020.
Emerging media's role in driving overall brand lift
For brands, leveraging these emerging marketing channels can be a gamechanger when the goal is raising awareness. Advertisements in podcasts, for example, have the potential to boost brand awareness by 13 percentage points1. From a brand awareness perspective, podcast advertising touts an aided recall rate of 71%, significantly higher than the 50% associated with people who aren't exposed to an ad.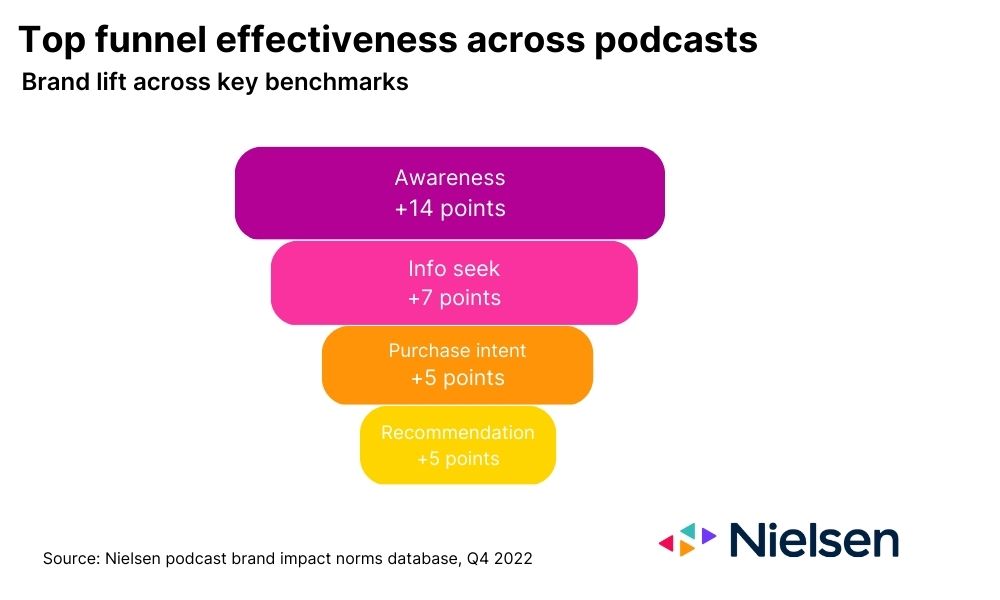 Podcasts, like influencers, offer brands the opportunity to convey their messages through an industry voice instead of their own, which speaks to the uniqueness of these channels. From a brand awareness standpoint, however, Nielsen Podcast Ad Effectiveness data shows that host-read ads perform just slightly better than non-host-read ads. Within the podcast space, host-read ads have a bigger impact in mid- and lower-funnel activations.
Influencer marketing and branded content present similar opportunity, as they have the potential to improve brand awareness by nine and 10 percentage points2, respectively. From a brand awareness perspective, influencer marketing boasts an aided recall rate of 79%, notably higher than the 62% unaided recall rate. Similarly, branded content touts an aided recall rate of 81%, significantly higher than the 63% unaided recall rate.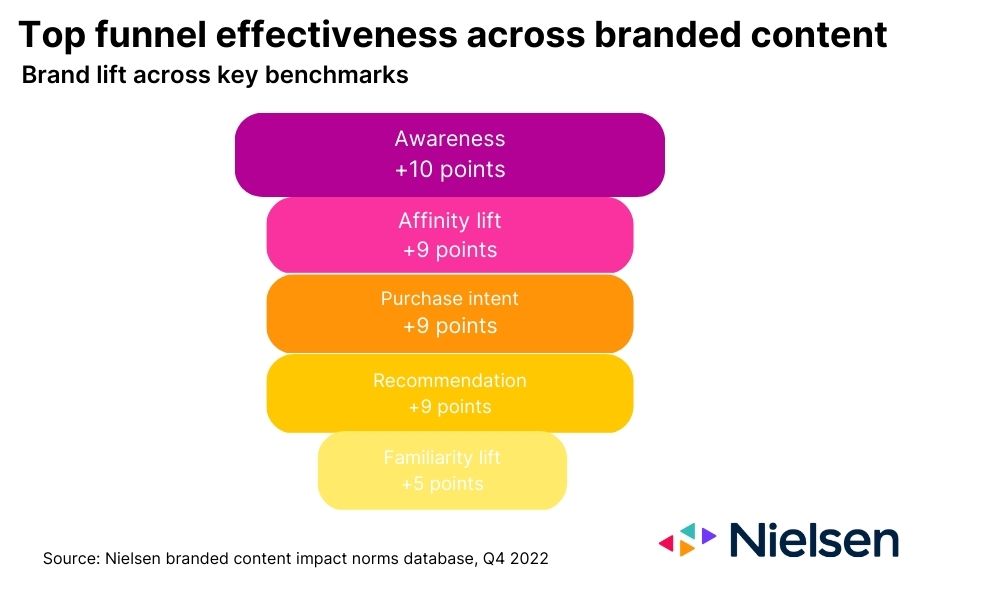 Despite the economic headwinds at the start of the year, nearly 70% of the global marketers surveyed for this year's annual marketing report expect their budgets to increase. And with a focus on awareness and customer acquisition, marketers are focused on channels that are attracting larger audiences. In the U.S. for example, marketers spent $43.1 billion3 on social media last year, up from just $20.6 billion a year earlier. By tracking brand recall performance, you're setting up the rest of your funnel up for success. And by understanding emerging media's role in delivering brand recall and overall brand lift, you have a sharper sense of how to widen your mix and use each channel to their best advantage.
For additional insights, download our 2023 Brand Lift Report: Building Brands with Emerging Media.
Notes
1 Nielsen podcast brand impact norms database, Q4 2022
2 Nielsen branded content impact norms database, 2018-2022
3 Nielsen Ad Intel