Teenagers beware–mothers are finding new ways to share your baby pictures. Evolving technology is being adopted, consumed and leveraged in different ways by a variety of groups, including the women who serve as backbones for their families.
We're talking about moms here. According to the third-quarter 2016 Nielsen Total Audience Report, mothers of all kinds show tremendous utilization of media and technology. But while working mothers have the most access to these devices and platforms, stay-at-home mothers have more of a penchant for them.
In fact, according to the report, device penetration is higher among mothers who work outside the home than it is among stay-at-home moms. Working mothers also tend to be more affluent and highly educated, and are therefore more likely to live in high-tech homes.
Compared with stay-at-home mothers, working moms are more likely to own technology across the multimedia board. This includes penetration levels of 98%, 80%, and 74% for smartphones, tablets and subscription video-on-demand (SVOD) respectively.
Increased access to non-live TV viewing sources such as DVRs and SVOD services comes as no surprise, as moms in out-of-home working environments consider being able to view content when it's most convenient for them a necessity.
As the influence of these women on the media landscape grows, marketers and advertisers have a plethora of opportunities to reach them. Indeed, there are 25.1 million females in the U.S. who are between the ages of 18 and 49 and have one or more child under the age of 12, and almost three quarters of them are in the work force. Meanwhile, the percentage of working moms increases with age: About 71% of moms 18-34 are working, whereas 77% of moms 35-49 are working.
But that's not to say that stay-at-home moms haven't carved out their own role in the growing ubiquity of technology and media consumption. In fact, despite having lower levels of device penetration, stay-at-home mothers actually utilize different technologies for longer time periods than their out of home counterparts.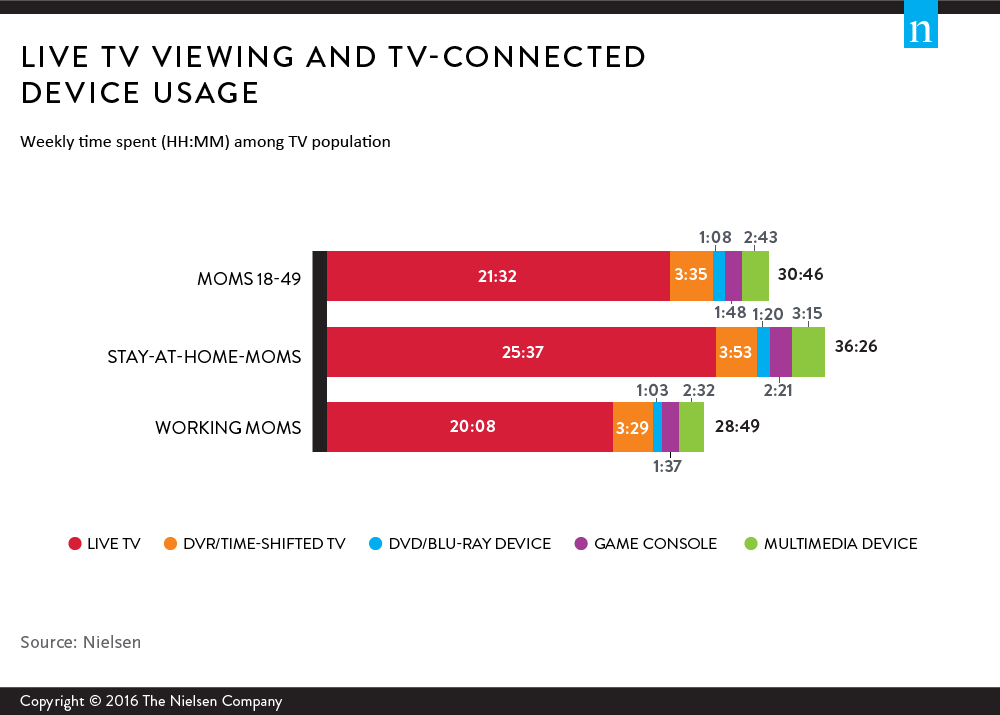 Because they spend more time at home, these women are able to spend more time with both live TV and TV-connected devices.
Overall, stay-at-home moms spend over seven-and-a-half additional hours watching live TV and content via TV-connected devices per week than those who work. This increase in usage was seen in all platforms and most notably in live television usage (over five hours more), where the ability to remain at home diminishes the pertinence of time-shifted viewing capabilities.
That doesn't, however, mean that stay-at-home moms aren't taking full advantage of these content conveniences. Weekly DVR/time-shifted TV viewing for these women accounts for their second-longest TV-related activity at just under four hours, and that's still more than working moms.
The trend of higher technology usage levels for stay-at-home moms extends into the digital landscape as well. Across PC, smartphone, and tablet users, stay-at-home mothers outperform working mothers in weekly time spent and social media usage (with tablet usage being the only exception).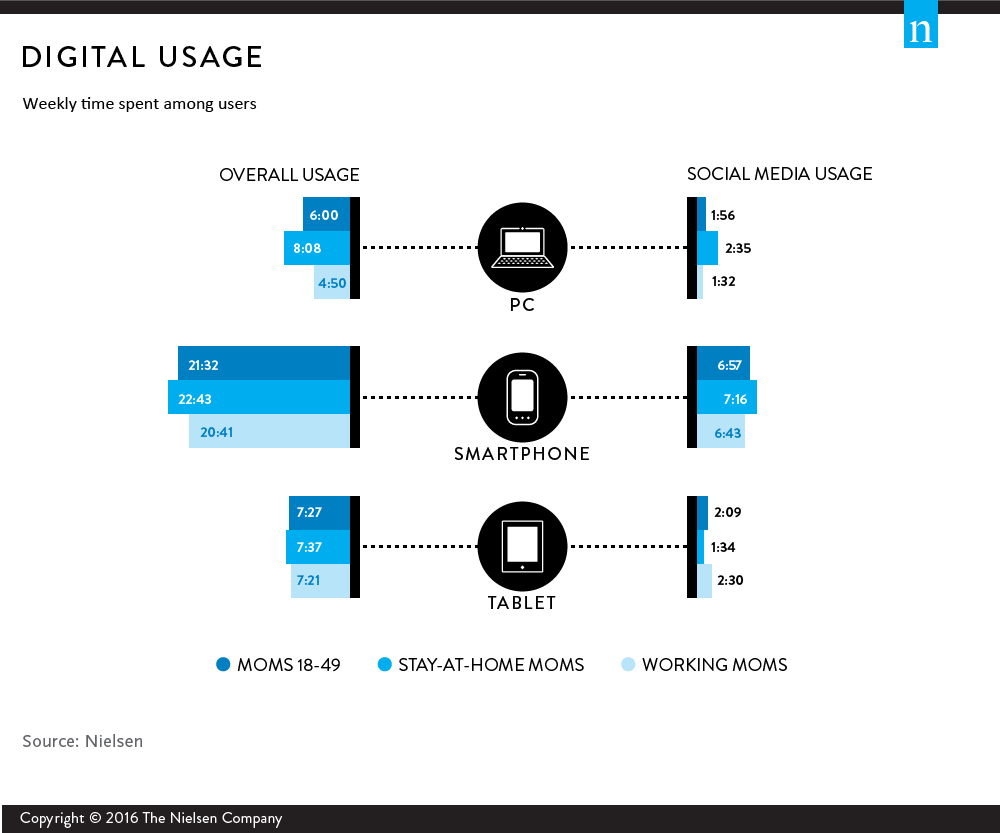 With smartphone users, stay-at-home mothers spend a weekly average of over seven hours on social media and nearly 23 hours on the device overall. While the gap between stay-at-home and working mothers is close in regard to overall tablet usage, stay-at-home moms spend nearly twice as much time with their PCs.
A tough pill that many children–but not digital advertisers–may find hard to swallow lies within their mother's social media usage on digital devices. Among users, ALL mothers ages 18-49 spend almost two hours on PCs, nearly seven hours on smartphones and over two hours on tablets per week using social media. Regardless of working status, mothers of the 21st century are finding time to be social media savvy.
Despite comparatively lower levels of usage in TV and digital spaces for working moms, marketers and advertisers would be smart to use a different form of media–radio.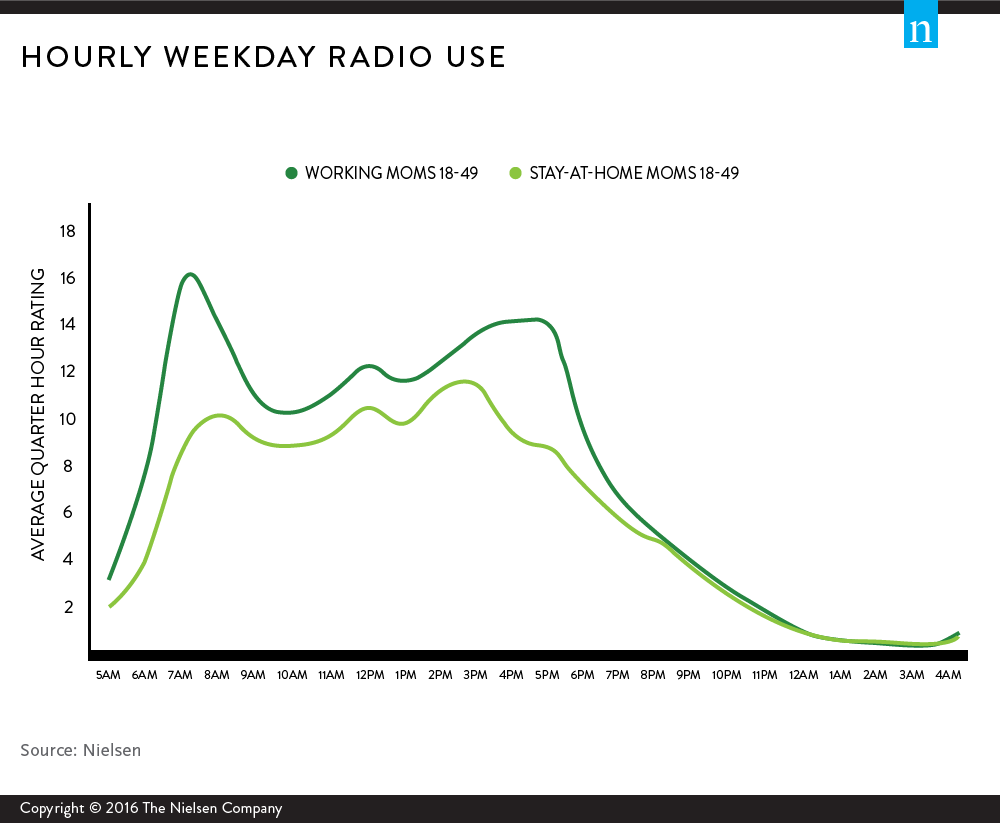 Working mothers outpace stay-at-home moms in hourly radio use, especially so during rush hour. Radio serves as a key way to reach these working women, as a large portion of their day is spent away from home and their TV or digital devices.
For working moms, the average quarter hour rating for radio skyrockets to a high of nearly 17% and an average of more than 14% during the morning and evening commute, respectively. Away from home, working moms have the greatest percentage of out-of-home listening at 77%.
Regardless of working status, mothers show increasing adoption and usage rates of both well established and seemingly newer forms of media. But depending on their choice of media, advertisers should find it beneficial to distinguish between the habits of mothers who make their living outside their home and those who make their living in it.