It's Asian American Pacific Heritage Month, and despite the current crisis, Asian Americans have much to celebrate. For years, this fast-growing, highly diverse multicultural group has been largely ignored by marketers, for reasons varying from "too many diverse subcultures" to "too many different languages" to "the general market advertising will reach them." We're seeing that now, more than ever before, Asian Americans are a galvanized group (the fastest-growing multicultural group in the U.S. with a buying power of $1.2 trillion), presenting more opportunities for brands to build trust and an emotional connection with them.
Asian Americans have always led the way with digital adoption. According to our latest Total Audience Report, 90% of all Asian American households own internet-connected TV devices, compared with 76% of the total U.S. population. While this trend is not new, the sheer amount of streamed content and the use of internet-connected devices among Asian American homes continues to grow. Today, more than ever, marketers are relying on digital platforms to sell their products. As early digital adopters, Asian American consumers can help deliver an immediate sales boost for those digitally savvy brands who make the effort to target them where they are.
But simply owning an internet-connected device doesn't necessarily mean that it's being used to stream content. Within Asian American households, however, subscription video on-demand (SVOD) services are almost essential, as 84% subscribe to at least one streaming service, 10 percentage points higher than the total population. Marketers that include content marketing in their marketing mix stand to gain an advantage in reaching Asian Americans. And given the rising consumption of streaming content across all demographics, content creators are ensuring there's something for everyone. Asian American households are often multigenerational, and they're the most likely to include family members who stream content with another person. Given co-viewing trends across Asian American households, it's no surprise to see a wide range of popular programs with these audiences in mind, such as Parasite, Kim's Convenience and rom-com Tigertail (not to be confused with Tiger King).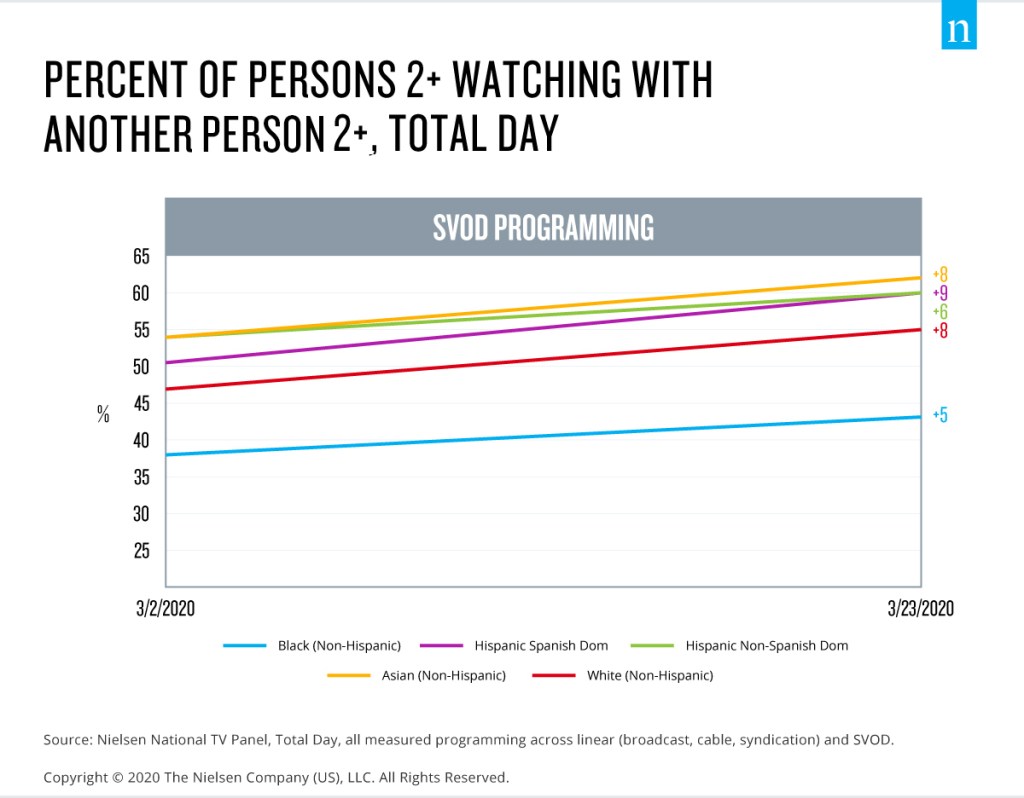 Marketers and content creators don't, however, need to rely solely on video content to engage Asian Americans. Now more than ever, marketers can better reach the younger, affluent Asian American in the 18-34 age group, through games and esports live streams. With a lot of screen time, especially during a period when people are spending more time indoors, young Asian Americans are a lucrative and captive audience. Over one-in-four Asian American gamers say they watched an esports tournament live stream in the last three months, and 40% spend more than 5 hours a week watching gaming video content.

Even within the Asian American gaming community, there are opportunities to refine the target market by game type and across devices. For example, 44% of Asian American gamers have played puzzle games in the past three months like Candy Crush, which is primarily played on a smartphone. These would be more appropriate for family-friendly brands. Additionally, 33% have played strategy games like Civilization and 19% have played online casino games, which are usually played on a computer — great platforms for reaching individual adult gamers.
When it comes to the media space, Asian Americans are doing more than just watch and game. Many are active content creators and many are established influencers, and marketers should consider partnering with them to create content that builds trust and resonates with the Asian American market. For a long time, Asian American characters were often portrayed as a martial artist or the awkward nerd. When an Asian American was in a role without a speaking role, they would be cast as an owner of a convenient store or a laundromat—and always the foreigner.
Times have changed, and Asian Americans have taken the spotlight in an array of roles and programming that highlight their true stories and heritage. In the early 2000s, for example, YouTube came on the scene. Then came blogs, social media and mobile video platforms, which offered Asian American artists the creative freedom to tell their stories, independent of Hollywood's traditional gatekeepers. Today, streaming platforms offer a new stage for Asian American voices. Actors like Ken Jeong, Mindy Kaling, Ali Wong and Awkwafina are also taking over behind the camera. These authentic voices have helped galvanize the Asian American community. Instead of wondering what the future holds, brands can shape that future alongside the Asian American community.
Learn more from our latest Asian American Diverse Intelligence Series report.