In addition to testing brands well beyond the expected, the past year-and-a-half has showcased the sometimes dramatic ups and downs associated with extreme supply and demand swings. For the auto industry, the bounce-back in sales this year has been welcome news, but the need for mobility among consumers last year has left auto manufacturers searching high and low for the increasingly rare semiconductors needed to make their production lines whole. So in light of dwindling supplies, automakers and their agencies will need to largely focus on brand awareness efforts to stay top-of-mind with consumers until they're better able to capitalize on short-term conversion efforts.
After consumers were sheltered and close to home for much of last year, demand for personal vehicles quickly returned in the back half of 2020 and into this year, with the U.S. Bureau of Economic Analysis reporting auto sales of 365,000 and 356,000 units in March and April, respectively, up from 264,000 and 166,000 in the prior-year periods. But the chip shortage began to affect manufacturing mid-year, which means the uptick in new auto sales retreated and will stay depressed until chip supplies normalize and dealer inventory levels can be restored. Research firm IHS Markit expects auto production to begin to recover later this year, but it estimates the shortage will result in $182 billion in lost output for the auto industry.
The lack of supply that the auto industry faces throughout the second half of the year—and perhaps longer—might suggest to brands that they can cut their marketing spend given that near-term sales will reflect diminished inventory. We know that market uncertainty often results in marketing cutbacks, but we also know that brands that take those actions pay a price in the long term.
On average, it takes three to five years to recover equity lost because of halted advertising, and long-term revenue can take a 2% hit for every quarter a brand stops advertising. Brand building and awareness campaigns are critical in long-term success. And while many marketers might exclude brand building efforts from any discussions about their impact on sales, Nielsen data reveals how long-term marketing contributes to sales growth. Importantly, Nielsen's experience base shows that on average, a 1-point gain in brand metrics, such as awareness and consideration, drive sales growth of 0.5% among non-consumer packaged goods.
Given the extended time periods between most auto purchases, savvy auto marketers are already well versed in developing long-term brand building efforts. So in that respect, the pivot for marketers amid the current supply shortages may affect messaging and channel rather than strategy.
Caring for upper-funnel metrics requires a keen alignment between messaging and channel, and this is particularly true with brand-building efforts. To illustrate, let's look at the impact of marketing by message strategy for a major auto brand. When we measured the impact in both the short and long term, we found:
Lower-funnel messaging has a higher short-term impact than upper-funnel messaging, but it doesn't deliver much additional value in the long term.
Upper-funnel messaging delivers slightly lower short-term results, but it delivers meaningful additional value in the long term.
When we look at the example through the lens of specific channels, the results are even more illuminating. With upper-funnel messaging, video and offline media are very efficient in driving short- and long-term sales. With lower-funnel messaging, non-video and online media are more efficient in driving short-term sales than they are in driving long-term sales. With this in mind, auto marketers should consider shifting more budget into video brand campaigns in the short term.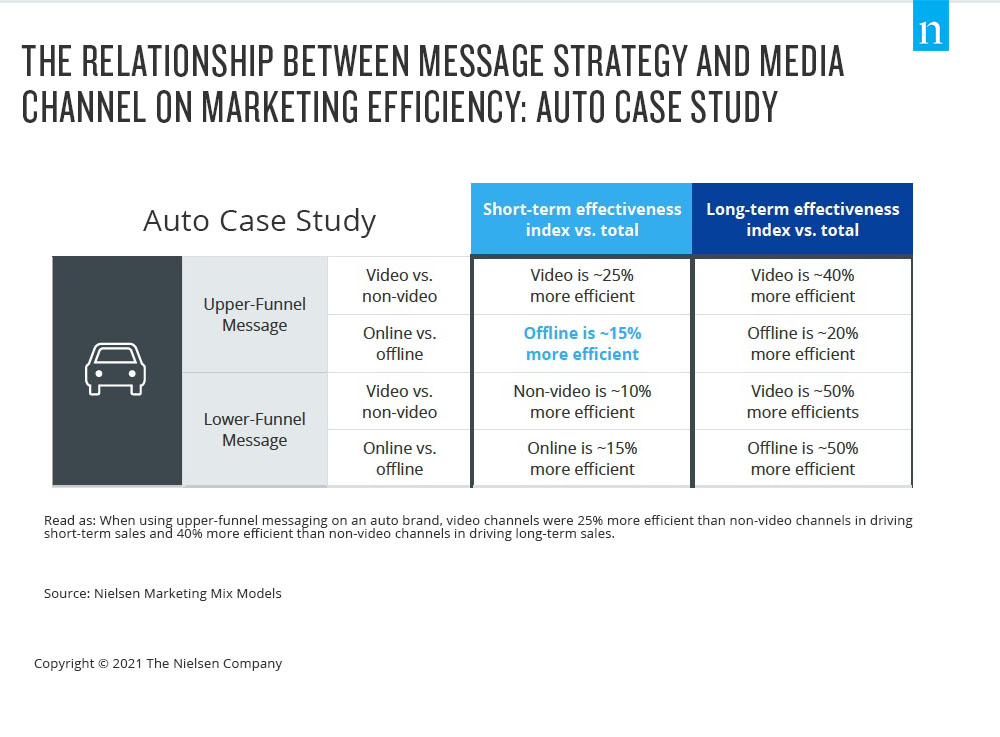 Given the massive disruption at the end of first-quarter 2020, the significant dip in ad spend across the U.S. auto industry was largely expected. After bottoming just one month after COVID-19 forced the country into lockdown, however, ad spend began to rebound, albeit in small increments. By September, marketers were spending at levels on par with January 2020 levels, and spending grew to surpass $1 billion by the end of the year, according to data from Nielsen Ad Intel.
The increase in ad spend late in 2020 corresponds with seasonal car-buying trends as well as improving consumer sentiment about the pandemic. That said, we know that vehicle inventory is running low, which will likely inhibit traditional car buying trends this fall. That's where brand awareness campaigns will need to carry manufacturers and dealers until they can meet consumer demand. Aggregate ad spend, however, has not reflected any amplified effort to stay top-of-mind with consumers, as total auto industry ad spend in May 2021 was a little more than half of what brands spent in May 2019.
While auto brands don't typically advertise heavily in May, there is a risk of falling out of consideration given that brands won't have their typical fall supplies. That means they should stay consistently engaged with consumers until supplies normalize. At a more granular level, ad spend by brand still lags 2019 levels, but select companies have raised their spending from last year more than others. In March 2021, for example, Nissan Motor Co. spent about 90% on advertising as it did during March 2019. And in May of this year, Stellantis, which owns an array of auto brands including Chrysler, Jeep, Dodge, RAM, Alfa Romeo and Fiat, spent more than it did in May 2019.
There's never a good time to stop advertising, but the current market conditions raise the stakes considerably. And in light of the supply issues, it's more than a good time to remember that long-term brand-building strategies do have an effect on sales. And today, staying top-of-mind with consumers could be the difference maker when a future auto sale is at stake. Nielsen data shows that marketing accounts for 10%-35% of a brand's equity. That's good insight for auto marketers today—as well as when supply chains normalize.
For additional brand-building insights, download our recent Brand Resonance white paper.