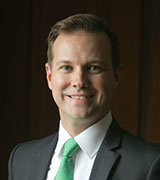 Two of my three daughters, ages 4 and 6, are the biggest women's soccer fans you'll find. My youngest, age 1, has started to dribble, but she's still too young to know what a fan is. They frequently host front-yard matches that feature our beloved home team, the Washington Spirit, facing another team from the National Women's Soccer League (NWSL). We've also had the pleasure of attending a few games in person, but our family ritual of watching the Spirit on TV is what really cemented their fandom—until recently.
This season, the vast majority of the Spirit's 24 regular-season games moved from our local regional sports network (RSN) on TV to streaming platforms. So just before the season opener, I found myself scrambling to sign up for Paramount+, which airs 16 Spirit games this year, only to discover that the app isn't available on my smart TV. "It's better for me to see it on the TV," my middle child grumbled as she jostled with her sister for a better view of the iPad. We caught 30 minutes of action before the girls' 8 pm bedtime, but that was it since Paramount+ doesn't offer full replays the way DVRs do.
Just before game 2, I discovered that it was on Twitch, a separate app that streams five Spirit games this season. But, just as before, we had to watch it on the tablet. "Daddy, I need to go to the bathroom. Can you please pause this?" my eldest asked, to which I had to reply, "Sorry, it doesn't pause like the TV does."
It hasn't been the smoothest viewing experience for us, but we will keep at it. My daughters will give me no choice and, thankfully, our family has the devices, internet connectivity and budget to do so. But does the average sports fan have the desire, time and resources to do so as well? The answer will, in all likelihood, determine the future of women's sports (if not sports overall).
Women's sports have always been hard to find on TV. Aside from the Olympics, World Cup soccer, golf and tennis, women's sports have taken a distant back seat to men's for decades. Nielsen data show that in 2019, the last full pre-COVID season, 96% of televised professional basketball games were of the NBA, while only 4% were of the WNBA. Pro golf was slightly more equitable, with 77% of events with men, 18% women (and 5% both men and women), but still nowhere close to gender parity. One shouldn't expect a multi-billion dollar industry with a status quo rooted in men's sports to change overnight, but there's a growing consensus that it must make progress and soon.
Why is gender equity in sports media so important? It's not only the right thing to do, but it also has a profound effect on industry economics. There is a direct correlation between the audience size of a sports league's televised events and the financial health of that league. By way of example, the 256 regular season NFL games last year delivered an average audience of over 15 million viewers, and seven games were among the top 10 highest rated primetime TV shows in 2020. So it's not surprising that the NFL commanded a whopping $10 billion per year in its most recent media rights deal and provides a very comfortable minimum player salary of $610,000 per year.
Comparatively, only nine NWSL games were televised in 2020, with an average audience of 434,000 viewers, 35 times smaller than that of the NFL (1). So it's understandable that the NWSL's latest rights deal was also smaller, reportedly $1.5 million per year, leading to a much lower minimum player salary, $20,000 per year. Therefore, more viewers equals more money and, even in the year 2021, TV audience sizes still matter and quite a lot.
So if you're a sports league or media partner of one, what should you do? You should maximize total viewership however possible, regardless of platform, using a strategic set of media channels, both streaming and linear TV. After all, if you're trying to grow your fan base, shouldn't you make your product available to as many people as possible? A best practice is what I'd call the "barbell strategy." On one end of the barbell is streaming, also known as connected TV (CTV), which accounted for 27% of total TV usage in June 2021 in the U.S. An ideal approach would prioritize high-reaching, ad-supported streaming apps that are free to the consumer, which minimizes a viewer's "barrier to entry."
On the other end of the barbell is traditional, or linear, TV. Despite Americans increasingly "cutting the cord," linear TV is still the overwhelming way that people watch TV, sports in particular. For example, in June 2021, 49 million households watched ESPN or a RSN. This compares with the 30 million who watched a network streaming app. The vast majority (73%) of ESPN/RSN watching households did not watch a network streaming app (2). Therefore, sports leagues, women's included, just can't afford not to have a strong linear TV presence (and putting just a few playoff games on broadcast networks is not enough). In a perfect world, TV distribution would leverage both RSNs (to foster and capitalize on home-team loyalty) and national TV networks (to drive reach and awareness among the general population).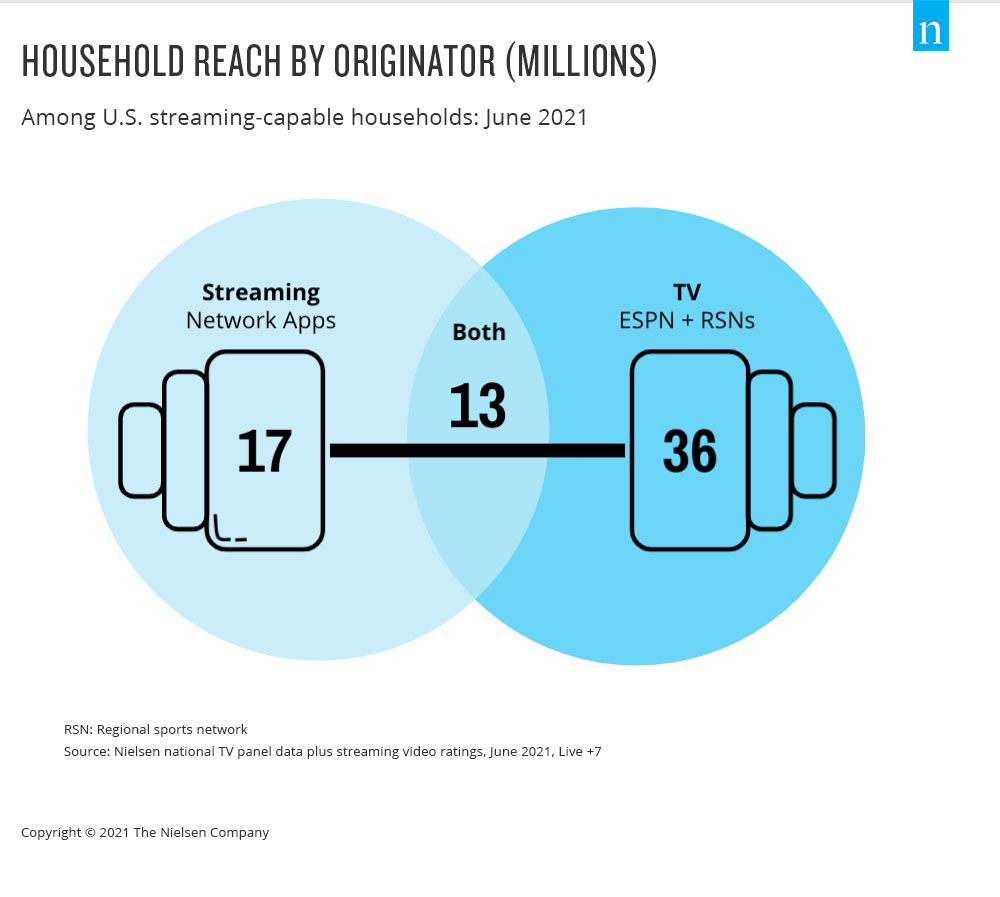 Overall, a well-executed barbell strategy maximizes reach through consumer choice; viewers who prefer to stream will stream and those who prefer to watch on TV, whether live or time shifted, will do so. The key is that these two groups are highly complementary and sum together to produce the largest possible audience.
And for those who believe that such a strategy isn't realistic because one can't reasonably expect profit-driven TV networks to carry lower-viewership women's sports, I'd offer two counterpoints. First, to paraphrase Cathy Engelbert, Commissioner of the WNBA, you first need to televise women's sports sufficiently in order to give them a fair shot at achieving greater viewership. Rome wasn't built in a day and the NFL has been on TV for 82 years. Second, small audiences for men's boxing, drag racing, esports and soccer (3) (with Major League Soccer having lower 2021 average viewership than the NWSL) hasn't prevented these sports from airing prominently on national TV.
Maximizing content reach has the added benefit of driving brand impact. The brand here is the league. You'd be surprised how few people are even aware that certain sports leagues exist. Harder still is producing the high level of awareness that's required to drive viewership intent across large numbers of people. Key to the mix is not just the content itself, but also promotions, including paid, owned and earned, which further drive awareness and intent to view. Content and promotions reaching sufficient numbers of the right people creates a virtuous cycle.
Awareness leads to intent to view, driving actual viewership and, eventually, large repeat audiences that attract large advertisers, lucrative media rights deals and financial success for TV networks, streaming apps, leagues and players alike. On the other hand, the alternative of relegating women's sports to niche subscription streaming apps, as fashionable as they may be these days, plus a few token TV airings will in all likelihood propagate the current trends of relative obscurity and financial underperformance.
To close on a personal note, the last couple of years have influenced many of us to seek out a deeper purpose in our professional lives, and as a father of three little girls, this is mine. When it comes to equity in media, gender included, I think those of us in the industry are in a unique position—and have a special obligation—to actually make it happen. My hope is that when my daughters are my age, women's sports will be as accessible and successful as men's and they will look upon this editorial as a quaint memento of years past, since long gone.
Notes
(1) 434,000 viewers is the weighted average of the seven televised Fall Series games and the two televised Challenge Cup games
(2) Nielsen National TV Panel data plus Streaming Video Ratings; among streaming-capable households, June 2021, live +7
(3) Nielsen National TV Panel data, P2+, January-June 2021, live +7