Amid the massive disruption that the COVID-19 pandemic has caused, a new global media landscape is emerging—and it's digital. The pandemic is far from over, and we will feel its effects for years to come, but the resilient media industry is bouncing back, with certain constituents pulling out ahead of others.
Marketing and ad spend are good barometers for measuring the overall health of the industry, and Nielsen Ad Intel data shows just what a turn-around the industry has made over the past 12 months. We know that long-term revenue can take a 2% hit for every quarter a brand stops advertising, but marketers worldwide dramatically pulled back on their spending as the pandemic set in last year. That pullback, however, was short-lived, as fourth-quarter 2020 and first-quarter 2021 spending levels were above their seasonal, pre-pandemic levels.
Given the effects of the pandemic on various market sectors, the return of ad spending has not been universal. Several industries that pulled back significantly last year, however, have returned to advertising with double-digit increases, including fast-moving consumer goods, durables, financial services and distribution companies.
As brands, advertisers and agencies think about the future, which should include ample brand building efforts for revitalized consumers, the rebounding landscape provides clear guidance on channels that are attracting the most engagement from consumers. With connectivity and online engagement well above norms during much of 2020, we expect that many newer behaviors will stay in place even as people begin to resume some (or all) of their pre-pandemic activities.
It comes without surprise that amid the high levels of online engagement throughout the pandemic, digital ad spend remained positive throughout 2020—even during the massive pullback in the second quarter. That level of digital advertising had a notable impact with consumers, as digital impressions across 27 countries outside the U.S. grew significantly, according to data from Nielsen Digital Ad Ratings. Across the largest digital players, Facebook, Google, YouTube and Amazon, digital impressions increased by 36% over a two-year period. Comparatively, digital impressions across the rest of the internet grew by 26% over the same period.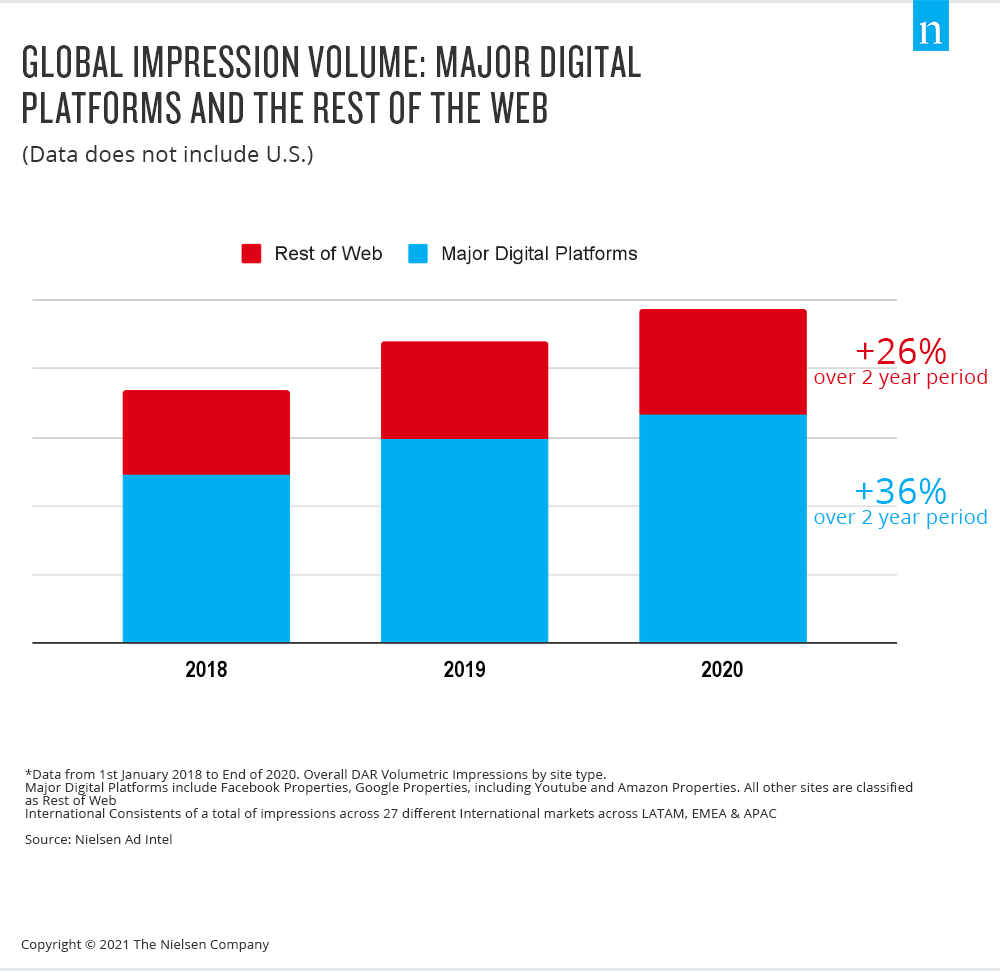 As has been the case in other markets, streaming has been a significant winner throughout the pandemic, as consumers gravitated to the growing wealth of content options that are available online. And even as parts of the world resume pre-pandemic activities away from home, engagement with streaming content remains elevated, and now accounts for 37% of digital impressions across 27 different markets in Latin America, EMEA (Europe, Middle East and Africa) and Asia Pacific. Comparatively, digital impressions across streaming content (including YouTube and podcasts) in the U.S. account for a much larger portion of digital platforms than they do in other markets.
Importantly, as big of an impact as streaming is having on the media landscape, advertisers and agencies should be focused on an array of channels across the digital ecosphere. Streaming has gained share of impressions in Latin America, EEMA and Asia Pacific, but not to the degree that it has in the U.S.
For additional insights, watch the on-demand recording of our recent State of Global Media event.