With streaming now the favored option among U.S. TV audiences, it's become a critical distribution consideration among movie studios as they evaluate strategies to best engage their key audiences—and when. And as buzz builds around the upcoming 95th Academy Awards, we can see that streaming distribution has evolved into a complement to theater releases rather than an alternative.
Compared with just a few years ago, releasing a movie to theaters and a streaming service at the same time is no longer unusual, if for no other reason than the audiences that streaming attracts. In 2022, Americans streamed more than 19 million years' worth of content—up from almost 15 million years' worth in 2021. And from a movie perspective, Americans streamed more than 112 billion minutes of the 15 most-viewed movies of 2022, up from almost 84 billion minutes of the 15 most-watched movies of 2021.

But with audiences returning to theaters throughout 2022, many of this year's Best Picture nominations have yet to land on a streaming service. The extended period between theatrical and streaming releases of this year's nominations reflects evolving distribution approaches in light of reduced concerns about COVID-19 last year. Compared with 2021's Don't Look Up, which only had a 14-day exclusive in theaters, 2022's Triangle of Sadness made its theatrical debut Oct. 7, 2022, but remains unavailable to streaming audiences nearly six months later.
When the 94th Academy Awards were held March 27 of last year, all but one of the Best Picture nominations had been made available to streaming audiences, which attracted significant viewership across five different platforms. The tight window of theater exclusivity for all but one of the movies gave audiences an opportunity to see the movies in the comfort of their own homes ahead of the Oscars. In 2021, for example, audiences streamed 211 million hours of CODA, which went on to win three Academy Awards in 2022, including Best Picture.
The streaming availability of these titles so close to the Oscars also fueled a halo effect of viewership after the hype of the awards ceremony, as audiences streamed almost 8.5 billion minutes of the nine Best Picture nominations throughout all of 2022.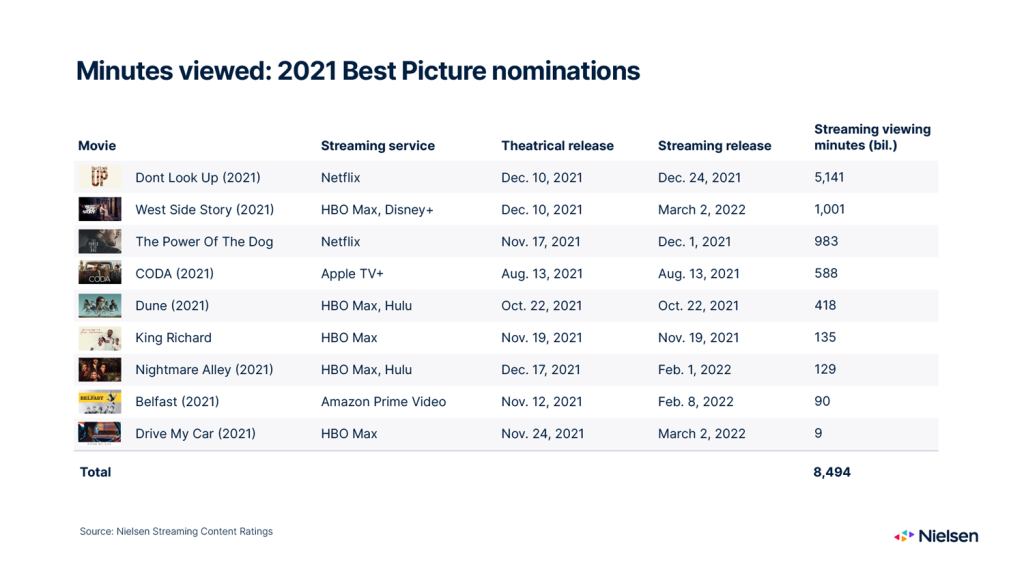 Fast forward a year, and we see that only one of the 2023 Best Picture nominations was released to U.S. theaters and a streaming service simultaneously: All Quiet on the Western Front, the third adaptation of the 1929 novel of the same name. And as a result, U.S. audiences had streamed 1.7 billion minutes of the film through Feb. 12, 2023. Comparatively, four of this year's Best Picture nominations have yet to be made available on a streaming service.
That means that these films will likely experience a viewing resurgence when they do migrate to streaming, just as Elvis did when it landed on HBO Max in August 2022 after a 45-day period of theater exclusivity. Viewership got an additional boost after it was nominated for an Oscar, as audiences had streamed 568 million minutes of the film in 2023 through Feb. 12, 2023 (2.122 billion minutes streamed in 2022).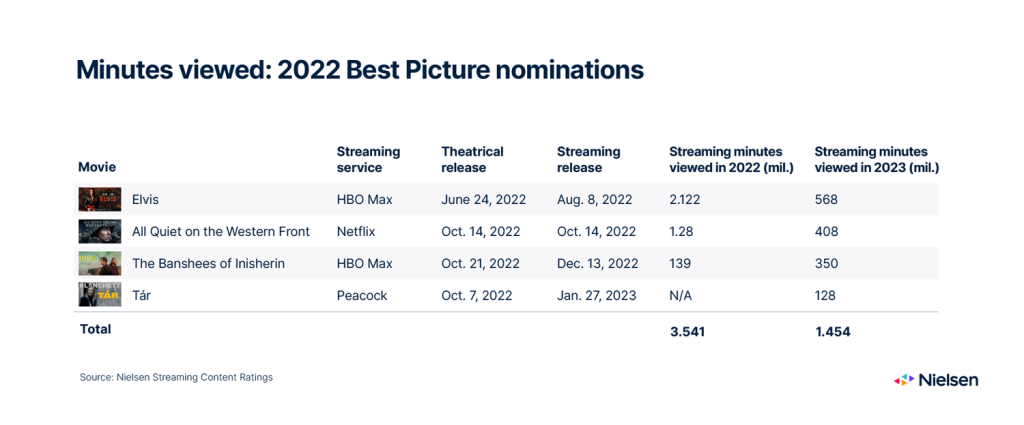 As audiences continue to gravitate toward streaming, movies remain a significant driver of TV engagement. At the height of the pandemic, streaming even provided the movie industry with an audience when going to theaters wasn't an option. Three years later, with much of everyday life largely back to normal, movie distribution is much more balanced, with streaming providing an extension to reach additional audiences beyond those who opt to see films in the theaters.