Younger consumers, typically Millennials, are always on the go—from visiting family to working out to connecting with colleagues at happy hour. While they live busy lifestyles, they also like to stay connected to what's happening with their favorite sports teams. And that means these highly engaged viewers look for ways to stay connected to the latest scores and catch a game regardless of where they are.
Across the many places to catch a game, restaurants, bars and someone else's home are top destinations for fall sports viewing and social engagement. To find out just how influential these locales are during the fall sporting season, Nielsen conducted a recent analysis of out-of-home (OOH) viewing on linear TV among people 18-plus who watched MLB World Series, MLS, NBA, NCAA Football and NFL programming. The analysis that included respondents in a general population survey and respondents in a Hispanic survey indicated that more than half of the respondents from both surveys viewed in restaurant/bar or in someone else's home. But many viewers gravitate to other places to watch fall sports as well. For example, while both surveys showed that while 66% of adults 18 and older watched in a restaurant or bar, only 20%-30% (27% for general population and 21% of Hispanics) exclusively watched in a restaurant and bar.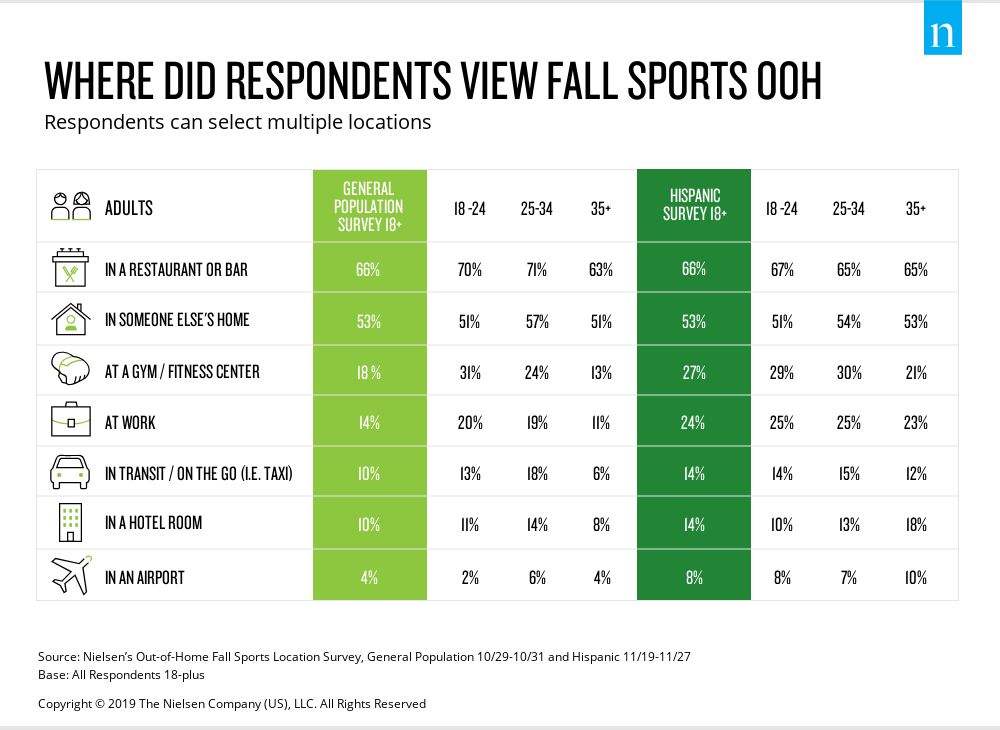 Age has a significant impact on where consumers choose to watch fall sports OOH. Across the general population survey, 31% of adults 18-24 said that they watch while working out at the gym. That's 7% higher than adults 25-34 and more than double than those 35 and older. On the other hand, Hispanic adults 18-24 and 25-34 have similar habits when it comes to viewing fall sports OOH while at the gym. Approximately 30% of respondents among both groups said they watch fall sports while working out, which is 9% higher than Hispanic adults 35 and older.
Interestingly, Hispanic survey respondents reported more OOH viewing in other locations than general population participants, such as the gym, work and in transit. The percentage of viewing in these three locations was similar across demographics. Hispanic persons 35 and older had the highest percentage of viewing in hotel rooms and airports.
OOH Fall Sports Viewing Leads to Brand Engagement
With so much action during game time, it's easy to think that OOH viewers aren't engaged with advertising. But that couldn't be further from the truth. Results from both our general population and Hispanic surveys found that at least half of respondents talked about the brand or product advertised with family and/or friends. The engagement rate among general population respondents 18-24 and 25-34 was much higher at roughly 60%. Hispanics 25-34 were also highly engaged, with 57% of respondents saying that they discussed the ad and/or product with family and friends.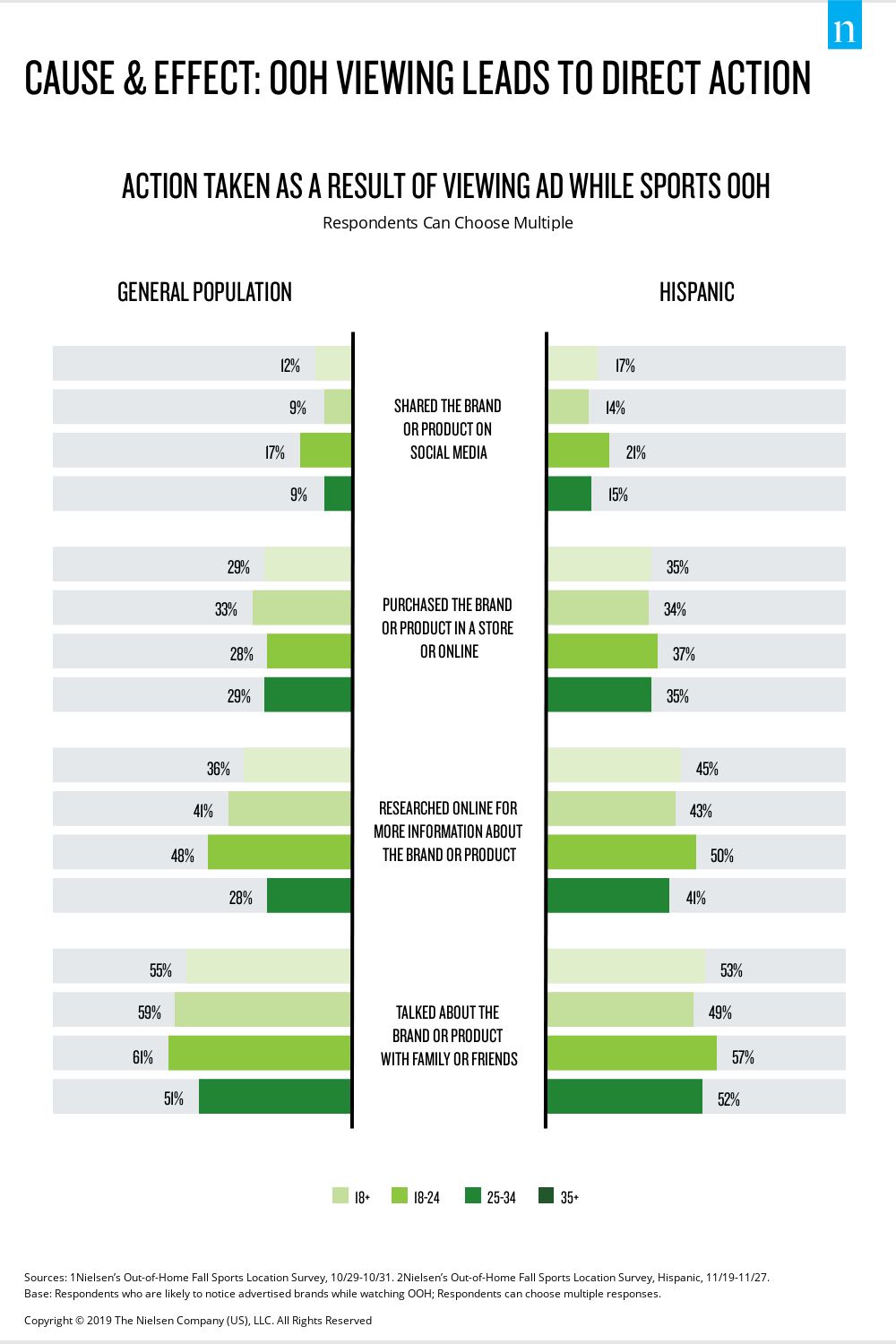 While most viewers have their favorite spot to watch fall sports, they're not afraid to go about their days and watch a game in places other than a restaurant/bar or someone else's home. And when it comes to interacting with an ad, they're all about discussing the brand or product with family and friends. These insights are critical as they shine a light to the behaviors of the fall sports OOH viewer.
For additional insights, download our Driving Brand Engagement and Co-Viewing With Out-of-Home TV Viewing report.